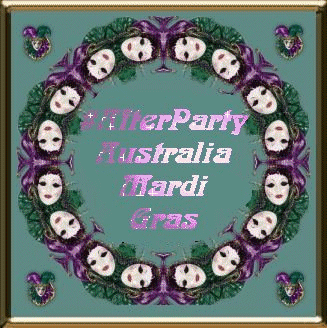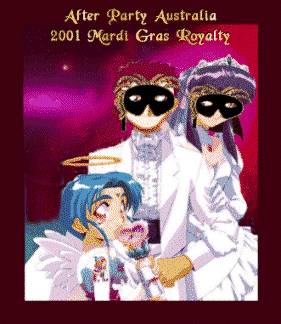 #After_Party_Australia had their own channel Mardi Gras 2001 event and invited all registered MIRC users to vote for our King, Queen and Jester. Congratulations to the winners!!

Mardi Gras, which means Fat Tuesday in French is the two week period before Lent begins. It culminates on Fat Tuesday, known as Shrove Tuesday in the Christian world, with the Balls where the King and Queen are picked.

For these two weeks there are many parties, entertainment, and parades. It is known for it's costumes. Many communities around the world celebrate Mardi Gras but the best known celebration is in New Orleans. For the history, events, and parade schedules you can visit Mardi Gras 2001 where you will find the links to whatever you are interested in.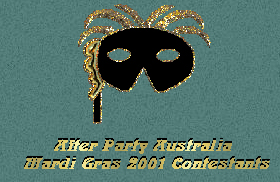 The Girls
ally PuSsY_KaT BobbiBouchet MissSassy jennAE Krystel
CowgurlBabe Lipstick minniemouse Marpa Cheekyprincess _elvira_


The Boys
Garrett the_Scream_Man trip Foxdirtbiker15 EdVedder First_Knight
Dark_warrior FC-BAYERN Ruthless JoJoX AForces Sony_Boy Ragamuffin ShadS` KoRn-FrEaK slayer_boy PeterH SilverChair _Jason viper6 SeCuRiTy_DuDe tassydevil Cuchulainn Abaddon

*S*
And Anyone Else Added To #After_Party_Australia by 2/27/2001
All graphics are owned and copyrighted by MissSassy
and must not be removed from this site